Seeing Black Stars: A Nightmare in Egyptian Football History
Ghana dazzled spectators in the Baba Yara Stadium as Gyan and co. absolutely demolished the Pharaohs in one of Egyptian football's worst ever appearances in the World Cup Qualifiers.  This adventure in the African continent ends with a complete disaster to a dream many of Egypt's players and fans have had since even before the days of the golden generation during Shehata's era.
This is hardly the best time for me to write my very first editorial on KingFut, but I certainly hope it is the last of such occasions – and definitely hope it can't get any worse than this. The Egyptian national team were utterly destroyed due to a host of disadvantages: from the formation coach Bob Bradley chose to the selection of players, the weather conditions combined with the poor grass surface and the incredible speed, individual skill and power the Ghanaians exhibited.
The match gave it's first indication of a threat to the Egyptians after just 13 seconds into the game. The fact of the matter is that we were outplayed, outclassed and outmaneuvered by a superior team on its home turf. While we may often enjoy such games, as we have a good record against African teams (aside from North African sides), we were playing against a team with almost an entirely European-based squad while we only had Basel's Mohamed El-Nenny and Salah, Hull's Elmohamady and Lierse's Hossam Ghaly.
The formation Bradley opted for needed a smooth pitch and great discipline. That wasn't available on the given matchday. When playing with no strikers, you psychologically imply to your players your primary concern is not to concede any goals, more so than worrying about how to actually score. That gives a psychological defensive attitude when playing the ball, which means more caution and wariness. This also means you lose the ability to pressure from the upper third of the field, which leads to more attacking pressure on your players. This can only be absorbed by having defensive-minded players at their utmost to minimize mistakes and counter a willing strong opponent on his home turf; in Ghana's case – coming at you with full speed. This formation style also dictates you have good passing players as you'll be relying on smooth passes between constantly moving players, particularly the attacking wingers and the attacking midfielder (trequartistas), switching flanks and mesmerizing defenders with speed and accuracy.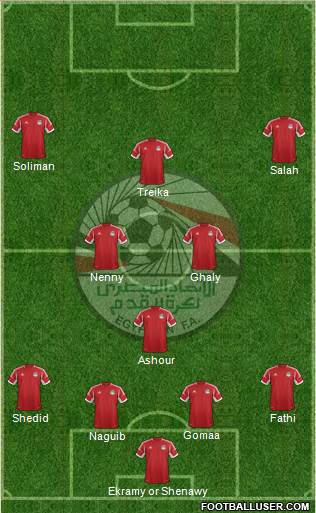 The rain worsened the pitch, which deemed any good passing game useless. This gave a huge advantage to the hosts who kept plying on the pressure on a clearly dysfunctional defense, who started to wane from the first minute of the game. Naguib's timid pressure on Gyan for Ghana's first was for me the time where Bradley should have started to think about actually subbing his clearly disoriented centre-back who didn't cope well with the matchday pressure. It was downhill from the starting 10 minutes of the game, and the only glimmer of hope came when Bradley switched his formation to a more attacking style with one striker and a supporting one in Salah and Abou-Treika, aided by Soliman coming in from the left flank.
A high ball ended up to Salah who gave Egypt the team's only bright moment of the game, which came after a few minutes of constant pressure that resulted from Egypt switching to a more attacking and more balanced formation, especially since Treika's goal was countered almost immediately with Ghana's third. This can also be claimed to come from the same main issue: timid defense and lack of discipline. The stage was set. The circus show was in full party mode and the Egyptians were not given a breather, and so few were the "honorable" mentions wearing Egyptian jerseys. In fact, the players I will express my admiration and respect didn't ever wear red yesterday. Ekramy showed he was tough despite all the criticisms that he was bombarded with and El-Shennawy proved he has potential despite giving away a dubious penalty.
Having said so, what can we expect from the second leg in Cairo? Nothing, in my opinion. Which in itself is a luxury. A few of the world's teams play for nothing. We are only going to be playing for pride, which hardly seems to be restored any time soon. Nevertheless, professionalism and pride dictate that we play and have a good game. If there is one thing we should be doing, it is not actually surrendering. Odds are that we will still lose that last game but we will be burying ourselves if we don't play well and at least, the very least, win. Circumstances can change, and at least a good result will only slightly float sorrow faces in the Egyptian football scene. It will be Bradley's last chance to improve his reputation that has been tarnished by one of the worst nights a national team coach can go through. Therefore, I suggest in a totally biased and opinionated sense, my own vision of how the Egyptian NT should line-up in the return leg in Cairo.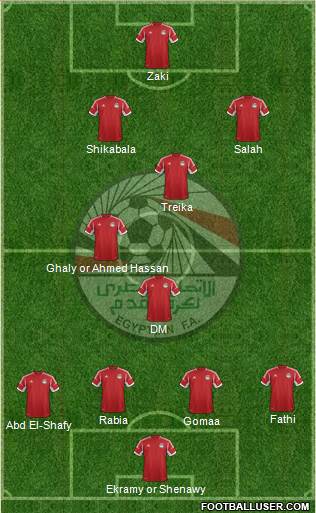 Ekramy or Shennawy in GK is no surprise. Gomaa because he is the only reliable alternative in Egypt's pool of centre-backs and I would give Rabia his chance, even though he prefers the defensive midfield position. I would give the second centre-back position to Adam El-Abd or Fathallah, but despite my admiration of El-Abd, both are very error prone. Abdel-Shafy remains to this day the best Egyptian left-back because of his torrid running, and good crossing ability. He deserved to be playing in Kumasi.
In midfield, the issue of the defensive midfielder is an Egyptian nightmare in itself. Ever since Mohamed Shawky's form dipped to an incredible low, Egypt has been suffering in that position, giving Ghaly, Hosni Abd-Rabo and Ibrahim Salah a chance to create this place as their own. Hossam Ashour, who has often been said to have been treated unjustly for not getting picked for his national team despite playing constantly for Ahly, well, the Ghana match will not look good in his portfolio of matches. Ghaly remains one of the only consistent central midfielders Egypt has at the moment, unless Bradley decides to actually change his mind and pick Ahmed Hassan. Ghaly and Hassan have that box-to-box ability, defending and attacking at will. Egypt's midfield needs that.
Shikabala deserves a starting berth with the national team. Despite his problems, he is yet to cause one with the NT and it is one of the areas where he is actually unjustly treated. He deserves a chance to present himself from the start and where better than a game in which no one actually expects anything that matters? Lastly, a striker. Just to counter everything about pressure in the final third that I already mentioned, plus a finisher in the box is needed to try and get some goals.
Finally, the only player I genuinely express my utmost deepest sorrow to is Mohamed Abou-Trieka. This legend is one of a kind. There are not many players who when are in the deepest, most blackened of situations have incredible ball control, vision, passing accuracy and willingness to fight all combined to produce quality classy football. Treika was one match away from achieving his dream in 2009, and up until a few days ago, he was two matches away from reaching the World Cup. The 34-year-old trequaresta almost did it by being the top provider and joint top scorer of the qualifiers.
It was probably the last we hear from Treika on an international level, since he announced his plans to retire at the end of his current Ahly season; but at least we might be able see him face the likes of Bayern Munich with Al-Ahly in Morocco if the Egyptian giants manage to win the CAF Champions League and reach the FIFA Club World Cup.
Karim Abdoun is an avid Egyptian football fan and blogger. For more of his work you can visit his blog.